Resources & Materials  |  Goals & Objectives  |  Current Species  |  Building on Biotech
Biotech GPS aims to strengthen the relationship between research and education by facilitating collaborations between educators from colleges and universities across the country and scientists at the N.C. Research Campus.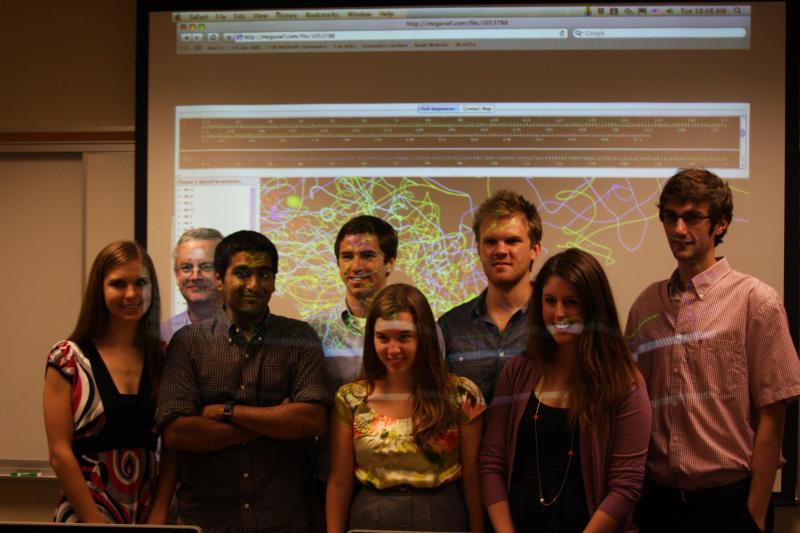 Biotech GPS is funded by a grant from the N.C. Biotechnology Center. With the grant support, N.C. State University's Plants for Human Health Institute, Davidson College and Lenoir-Rhyne University are working together to develop resources, tools, tutorials and web interfaces to facilitate genomic and bioinformatics education. The funding will also help support the design and implementation of plant genomic courses at Davidson and LRU.
Currently at the core of the program is genome sequencing and database creation for Vaccinium species. Biotech GPS' unique, interdisciplinary approach pairs scientists with students to advance ongoing research projects while better preparing future scientists for jobs in today's increasingly competitive biotech industry. The project incorporates genomic research directly into the classroom and provides students the opportunity to participate in ongoing research, which puts students on the cutting-edge of science.
Researchers will use the data generated from the blueberry genome-sequencing project to teach students how to search the genome, identify gene structure and function, and conduct comparative analysis with other plants. In addition, students will learn how to identify repetitive content and other features within the plant genome, as well as conduct automated and manual annotation of gene structure.
Biotech GPS Video <

link to video when final

>
Biotech GPS Photo Gallery <

link to gallery on Flickr when we go live

>
Biotech GPS Program Announcement <

link to final news release when we go live

>
Biotech GPS represents a unique interaction between educators and researchers. This dynamic cross-institutional effort addresses the needs and goals of both the students and the scientists, creating an ongoing and self-sufficient program. Initial objectives include:
A centralized pipeline of bioinformatics tools and blueberry genomic resources accessible via one web-based environment.
Two-way, efficient communication between researchers and classrooms to facilitate interaction, guidance and feedback.
Guidance on available tools with specific tutorials written at the undergraduate level for the most commonly used tools.
A way for motivated students to be acknowledged for their participation in active research projects.
A long-term plan for maintaining the resources after year 1.
A plan for publicizing the project and encouraging participation by additional undergraduate institutions in North Carolina.
Biotech GPS currently focuses on the Vaccinium genus of plants. Vaccinum is an ancient genus of the family Ericaceae, which includes about 450 species, such as blueberry (V. corymbosum, angustifolium and virgatum), cranberry (V. macrocarpon) and lingonberry (V. vitis-idaea).
Humans eat the fruit of many Vaccinium berries, some of which are of great importance to industry and human health. Research has shown that many Vaccinium berries contain health-promoting compounds, such as anthocyanins (the pigment that give blueberries their blue color), which can be effective against cancer, chronic inflammation, diabetes, and aging and neurological diseases when consumed.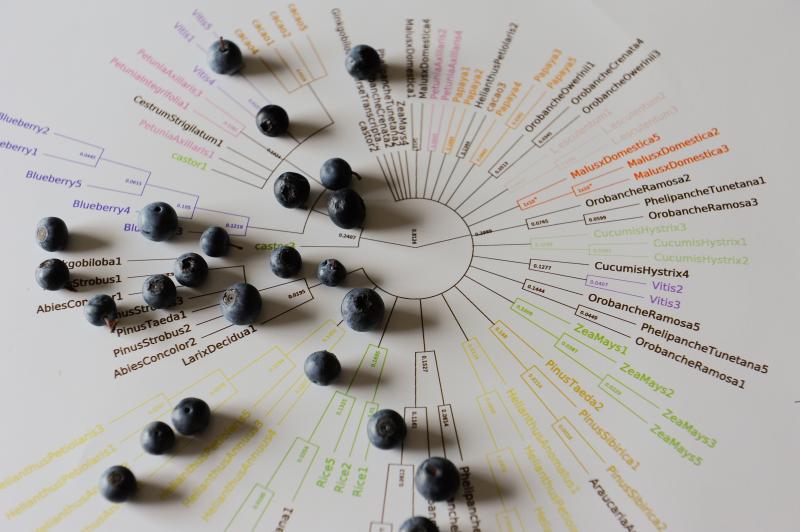 Biotech GPS is developing resources like the Genome Database for Vaccinium (GDV) to house and integrate genomic, genetic and breeding data for blueberry, cranberry and other Vaccinium species. Students are utilizing tools like the GDV to identify specific genes that can be used to produce plants with desired characteristics. They are also learning from scientists who are leading the effort to sequence the blueberry genome.
North Carolina has the third largest cluster of biotech firms in the nation, with many focusing on agriculture. Biotech GPS prepares N.C. students to compete for these jobs with real-world research experiences and by incorporating genomic research directly into the college classroom.
Likewise, the genomic sequencing of blueberry – a $70 million crop in North Carolina – has been conducted completely in-state and is being assembled and annotated by N.C. State University with the University of North Carolina at Charlotte, both partners at the NCRC. The sequencing effort is expected to be an ongoing project for the foreseeable future and will benefit from the ambition and dedication of these rising researchers.